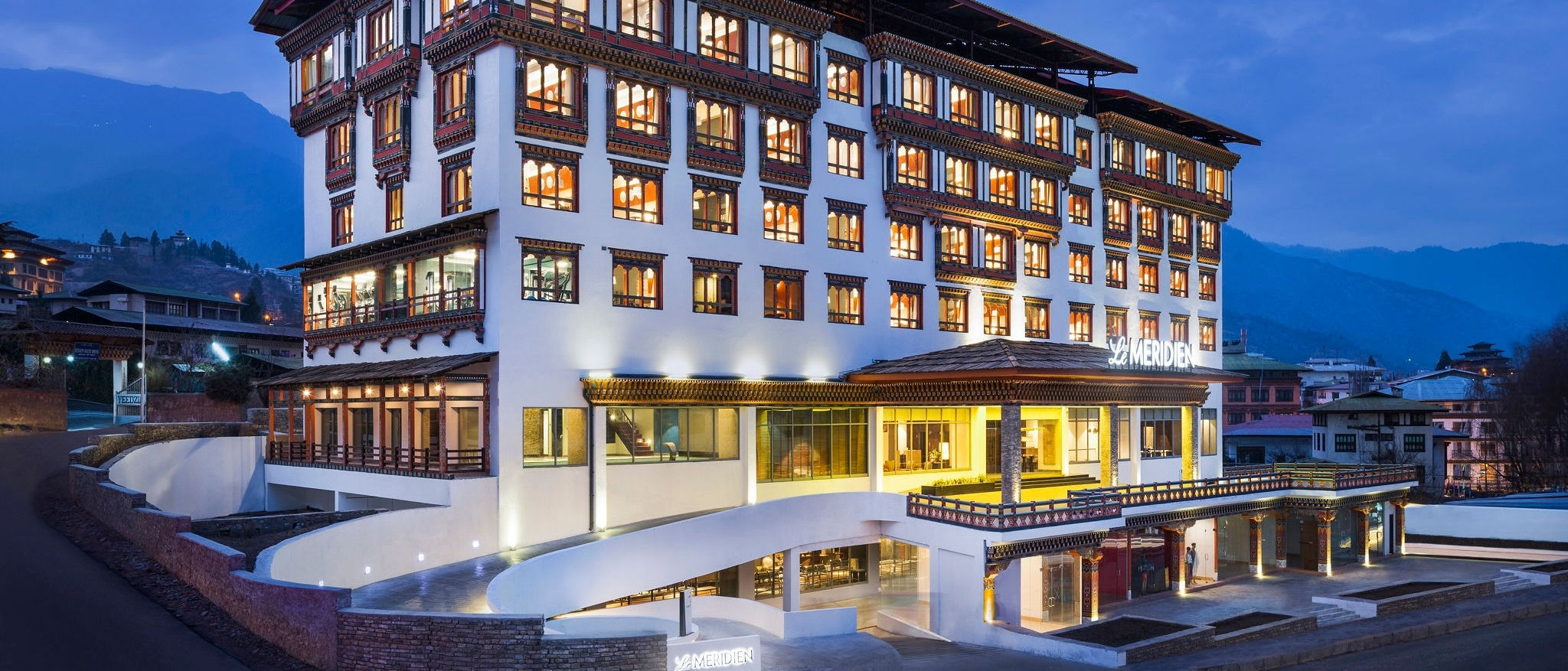 Discover a vibrant juxtaposition of ancient and modern cultures in Thimphu—Bhutan's timeless capital situated in the dramatic Eastern Himalayas—from Le Méridien Thimphu. An ideal gateway to the mountain Kingdom of Bhutan, our curated hotel is still just steps from shops and entertainment. Paro International Airport (PHB) is also a convenient 55 kilometres away.

To unlock the region's charms, intoxicating traditions, and spectacular scenery, simply explore. The famed Memorial Chorten provides captivating insight into Buddhist beliefs via authentic paintings and statues. The enchanting Simtokha Dzong—built in 1627—expands the adventure. Just eight kilometres from the city, it houses over 300 paintings hidden behind prayer wheels. To experience live worship, visit a convent, where female monks perform dreamlike chants.

Nature and culture combine at Buddha Point, home to Bhutan's largest statue and breathtaking valley views, and at the 17th century Tiger's Nest temple in Paro. Among Bhutan's most famous attractions, it features a throne room, dzong houses, monks in colourful robes, and more. The Tashichhoedzong Buddhist monastery also reveals many secrets, as does the National Textile Museum and the Takin Reserve, which is home to Bhutan's national animal. This rare creature resembles an unusual cross between a goat and an antelope. Or you can soak up the beautiful forests and Himalayas with an invigorating hike.

Relax after a stimulating day with a soak in a Bhutanese hot stone bath, which incorporates water heated with river stones that release therapeutic minerals. Then fuel your body with the region's flavourful indigenous cuisine. Savour jasha maru made with minced chicken and tomatoes, ema dashi made with spicy cheese and chili peppers, momos (dumplings), nutty flavoured red rice, and butter tea served with crunchy fried rice.

There are also many enriching entertainment options, including archery matches—which are considered the Kingdom's national sport—and traditional Bhutanese musical performances. To take a piece of the extraordinary city home with you, pick up some local handicrafts, including handmade paper, paintings, embroidery, jewellry, sculptures, bright textiles, and bronze and wood ornaments. Just don't forget to spin a prayer wheel for wisdom and good karma.